Check out every detail about BLU phones like - where are Blu phones made? Who makes Bold phones?
BLU Products is a popular & leading unlocked smartphone seller in America, Canada, and Mexico. It offers a number of smartphones under $50 budget and under $100 budget too and you can check BLU G90 [
]. It has also forayed into a $200 unlocked phone segment with the launch of BLU G9 Pro. For a higher price, they have introduced the all-new Bold Series called the Bold N1.
Some of the users are working are asking some questions like -
Who makes BLU cell Phones?
or
Where are BLU phones designed?
or
Where are BLU phones manufactured?
or
or you can ask -
Is BLU Products a Chinese Company?
All these questions by you are valid and legit and as a consumer, you should definitely ask that or atleast know about that. Don't worry, I am here to answer all your questions.
What is BLU Products?
BLU Products is a Doral, Miami-based cell phone manufacturing company providing entry-level, and budget unlocked smartphones with dual SIM. They cater to customers in the USA, Mexico, Canada, and other parts of the world.
Who makes Blu Phones?
All the BLU phones are made designed in America and are manufactured in China. Similarly, BLU's new franchise Bold Phone too is designed in the USA and manufactured in China.
Here is the BLU G90 Pro label that tells it all -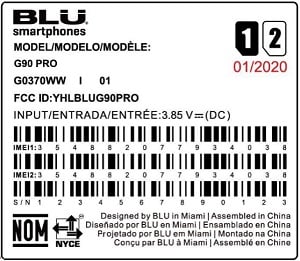 Also Read:
BLU Products is headquartered at sub-urban Doral in Miami, state of Florida. Its owner is Samuel Ohev Zion.
So that answers, where are BLU phones designed.
or it better answers your question of who makes BLU Cell Phone?
Also Read:
⇒ How to Hide Apps on BLU Phone
FAQs:
Is BLU Products a Chinese Company?
⇒ No, it's not a Chinese company. It's an American company. So all the nationalist people enjoy and buy the best BLU Phone!
Are BLU Cell Phones Made in China?
⇒ All the BLU Cell Phones are not made in America but their parts come from China & are assembled in China too.
Where are BLU Cell Phones Assembled?
⇒ BLU Products parts are made in China but assembled in China majority.
Whom to Contact for Warranty on BLU Phone?
If your device is troubling you with issues like Camera not working, then you have to contact BLU but not the OEM. Do check out the warranty of the device.
So that was all about Where are BLU Phones made, manufactured, assembled, or designed. Apart from that any other questions, let me know.
Please subscribe to our push notifications, Like us Facebook, join our Facebook Group for any Questions/Answers and email updates, and also Subscribe to our YouTube channel.