Android 11 aka Android R might be the next version of Android but as of now, Android 10 prevails. Apart from a number of smartphones receiving the Android 10 update, here we talk about BLU G9 Pro Android 10 update.
The BLU G9 Pro is one of the mid-range flagship smartphones by BLU Products for the customers in the United States. It runs on Android 9.0 Pie version out of the box and there are possibilities of it getting the Android 10 update.
BLU G9 Pro Android 10 Update
BLU Products have already confirmed Android 10 for bold N1 mobile phones but what about the newest mobile phones like BLU G9 Pro, BLU G9, and BLU VIVO XL5 their update status isn't known.
So will the BLU G9 Pro get the latest Android updates?
I am sure you are eagerly waiting for it. Let's first discuss why it should get it.
How to Signup for BLU G9 Pro Android 10 Beta update
This update isn't rolling out for all. BLU has set up a page wherein you need to provide your phone details like IMEI Number and then the update will be pushed to your device.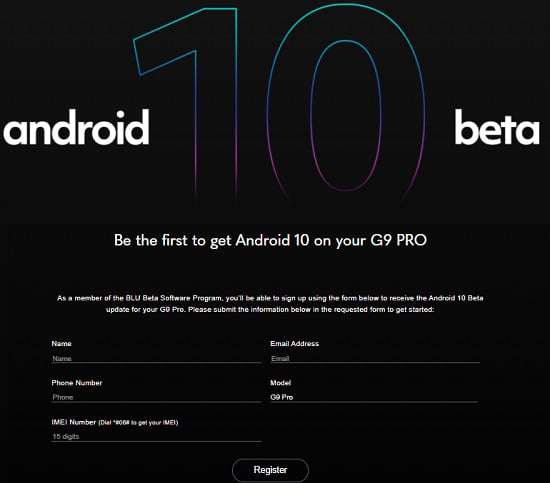 Visit this page - https://bluproducts.com/android-10-beta/
About BLU G9 Pro
The BLU G9 Pro has a 6.2 inch full HD display with Corning Gorilla Glass 5 protection on top. It's the BLU triple camera mobile with 16 megapixel + 5 MP + 20-megapixel rear camera and 24-megapixel front-facing camera with final touch software for enhanced photos.
Under the hood, it's backed by a Mediatek Helio P60 processor coupled with 4 GB of RAM and 128 GB inbuilt storage. We have already told you that it runs on the Android 9.0 Pie version out of the box.
Such a wonderful phone with a 4000 mAh battery with a quick charge for just $199.99 ($179.99 now using BLU Coupon code) is amazing. Go for it if you haven't.
BLU G9 Pro Android 10 Beta update
As confirmed by many users, the Android 10 beta update for BLU G9 Pro is happening. Yes, you will see the update available via over the air update.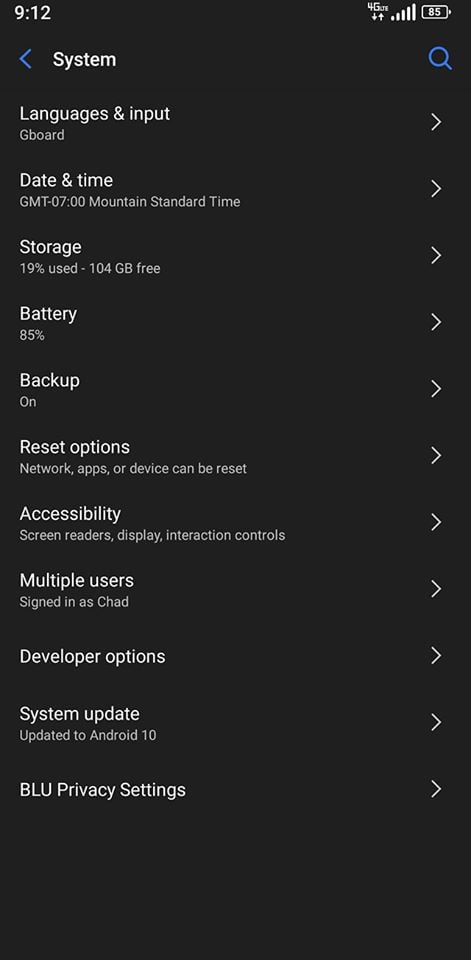 Thanks Chad Shawver & David Kane for the info.
Conclusion:
The BLU G9 Pro certainly has the hardware to support the Android 10 version. No doubt in that but it now all depends on BLU to carry out this software update. They are caring about the firmware updates now but to how many phones will they provide the upgrade it's still not yet known.
We are still waiting for the official word from BLU Products.
Also Read:
So that was all about the BLU G9 Pro Android 10 update details like release date, how to update, and custom ROMs.