Android 10 is trending because it's new Android version and here are qualifying blue phones planned to receive Android 10 update.
Finally, Google has sacked desserts for numbers in naming Android versions and here we go through BLU Android 10 update schedule and mobile phones list. You have a valid question in asking - will my phone get Android 10 update or not? Or says — Hey BLU, where is my Android 10?
BLU Android 10 update
New Android 10 is now official as simply Android 10. Google had to finally sack Android version naming based on desert names starting with the English alphabets because we had already reached Android Pie with the Android 9.0 version. Android 10 was called Android Q during developer previews until now but things have changed now.
There is already a number of smartphones expected to get this upgrade and several OEMs have already confirmed update availability and even the roadmap. Among the known is HMD Global the maker of Nokia Android phones has already listed 17 eligible mobiles phones.
BLU Android 10 Phones List
BLU has finally understood the need for delivering monthly Android security updates and firmware updates. This is where the all-new sub-brand Bold has been launched where the company promises free software update support for one year and Android security patch update for two years from the launch date of the device. Also, BLU Products launches Bold N1 smartphone with a planned Android 10 update very soon.
So as of now, Bold N1 is the only device confirmed to get the Android 10 update. Apart from that, it looks like these devices might get the upgrade -
Bold N1 Android 10 Update:
The BOLD N1 smartphone when launched was confirmed to receive to Android 10 update. Sadly there was no ETA given but it should arrive early next year.
Update: For one or the another reason, the Android 10 update for Bold N1 has been delayed.
BLU G9 Pro Android 10 Update:
Even though Miami based unlocked smartphone maker hasn't promised Android 10 for BLU G9 Pro, they have delivered the Android 10 beta update available from July 2020. — Read more
Android 10 Update for BLU G9:
With G9 Pro, there comes hope for BLU G9 but I don't see this happening as this device could be excluded from the list.
So you're looking for the list of BLU phones to get Android 10 update. Now let's check out BLU Android 10 Phones i.e., smartphones that run on the Android 10 version out of the box.
BLU Android 10 Phones
Miami-based unlocked cell phone maker introduced BLU G90, the first mobile phone to run on Android 10 version out of the box. It's the first BLU phone of the kind.
Android 13 Download APK | Android 13 phones list
Here is how the device looks like -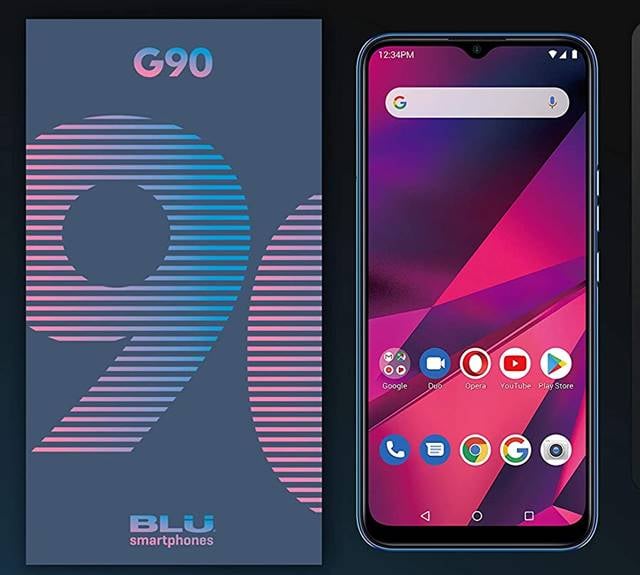 Here we go through BLU G90 specifications -
6.5-inch HD+ Infinite Display
1.8 GHz Mediatek Helio A25 SoC
4 GB RAM
64 GB inbuilt storage
Android 10 OS
Triple Rear Camera
13 mega pixel front camera
4000 mAh Li-Polymer battery with 10W Quick charge
Also Read:
Android 12 software update | Android 12 download Apk
The BLU G90 is priced at $199.99 and is available readily from Amazon.
BLU G90 Pro
Similarly, G90 Pro, a device currently FCC approved and near the launch also runs on the Android 10 version out of the box. Infact any new flagship phone now will run on the Android 10 version.