Here is the guide on how to enable Total Wireless Hotspot or tethering for mobile data sharing on other lines.
Mobile data sharing or Hotspot or tethering is a very important feature on smartphones that brings Wi-Fi router functionality to the so-called smartphones. Now, since I said 'Wi-Fi router' you might have understood that smartphones now include a data-sharing option, i.e., share your mobile Internet with your family and friends. But sadly, most MVNO and other mobile networks in United States don't allow sharing of data until and unless it's mentioned by the network provider. But the question is - does total wireless allow tethering?
Hotspot on Total Wireless was announced in late 2019, and it's only available on limited plans. Let me take you to the plans for which it's available.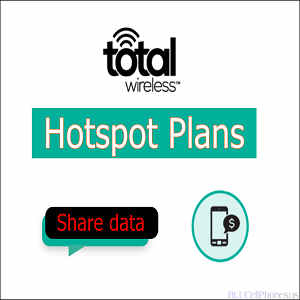 Total Wireless Hotspot:
The good news is that you can now enable hotspot on Total Wireless phone and share data with other mobiles around. For that, you will have to purchase any of the following plans -
| | |
| --- | --- |
| Total Wireless Plan with Hotspot | Hotspot Data Allowed |
|  $33.20/month - Single Line Phone plan |  5 GB |
|  $47.50/month - Single Line phone plan |  25 GB total up to 10 GB Per line |
|  $57.00/month - Family Plan |  30 GB; up to 10 GB per line |
|  $80/month - Family Plan |  60 GB; up to 10 GB per line |
|  $95/month - Family Plan |  100 GB; up to 10 GB per line |
Here is the guide on how to enable hotspot on Total Wireless -
Total Wireless data sharing on iPhone
Total Wireless tethering on Android Phones
You can choose how to tether by following 3 ways -
Tether by Wi-Fi or WiFi hotspot
Tether by Bluetooth or Bluetooth hotspot
Tether by USB Cable or USB hotspot
Total Wireless Tethering on iPhone:
Follow the process mentioned below in order to enable Wi-Fi tethering on iPhone by Apple using Total Wireless SIM -
Tap on your iPhone Settings > Cellular.
Now tap on Personal Hotspot or Settings > Personal Hotspot.
There you will have the options and for full details refer to mobile data sharing on Apple iPhone.
Hotspot on Android Phones:
To enable hotspot on your Android smartphone, do the following -
Open Settings and then select 'Network & Internet'.
Now tap on 'Wi-Fi hotspot' and this page will have the option to enable it.
Total Wireless Hotspot not Working:
There are a few reasons why a hotspot might not be working on your mobile phone. Here are a few reasons why the hotspot might not be working on your device -
Either you don't have a plan with a hotspot facility
You might have consumed your data limits; please check above for the hotspot data caps on plans.
Services may be down temporarily
Total Wireless Mobile hotspot Data Limit
There are data limits on how much data can be shared on each of the hotspot plans. For example - you can share a maximum of 5 GB of data per month with a single line $33 plan. And so other plans to have higher limits, you can refer to data table mentioned above.
Check out the above-mentioned plans and respective hotspot data allowed to know the limits.
Total Wireless Hotspot Refill
You can refill your plan with hotspot services directly online through their website or through the app. For the web portal, you can visit this page and login to refill.
Total Wireless Hotspot not Working:
Is Total hotspot not working? Are you looking for a solution? Just follow these steps if hotspot or tethering is not working -
Check your usage details to know whether you have reached your data limits or not.
If you are complaining about 5G not working on the hotspot, then make sure that 5G is very speed, and you might have consumed data too early.
You can read an article on why hotspot not working on my mobile phone.
You might be interested in reading:
Total Wireless 5G Mobile Hotspot Plan:
There are also 5G mobile hotspot plans are available, but they are usually costly because using the high speed 5G network your data will be consumed very soon.
FAQs:
Can we share mobile data on Total Wireless?
Absolutely yes! You can share Total Wireless mobile data, provided that you have recharged with a hotspot plan. There are many hotspot plans available, and you can check the above on this post. $33 single line plans allow data sharing to up to 5 GB per month.
Are Total Wireless tethering plans worth it?
Providing 5 GB of shared data at $33 a month is definitely worth it. So Total makes sense if data sharing is your priority.
Can I use my phone as a hotspot on Total Wireless?
Yes, you can use your smartphone to share mobile data with other friends and family members. Just make sure that you have the right tethering plan. Please check the plans above and read the data allowed.
Spectrum Hotspot Plans
Where is the hotspot option on my Total mobile phone?
On your Total wireless phone hotspot settings can be found under the phone's Settings. Open the app drawer and tap on Settings. Now tap on "Tethering or Hotspot" or 'Network & Internet' and then follow on-screen instructions.
Total Wireless Hotspot Not Working:
On your Total mobile phone if mobile hotspot doesnt work then there are some fixes you can do.
In both the process, you can set up a hotspot with a password and hotspot name of your own.