In this guide we will show you two ways on how to delete OkCupid Account/profile permanently.
OkCupid is exclusively intended to help people to find their true love to date them. If you have found a perfect match or partner on OkCupid, it's recommended to delete OkCupid Account for good reasons. I might not have to explain to you that because it's your relationship with your current partner that it matters.
So ready to delete OKCupid ID? If yes, then you have arrived at the right place for the right information.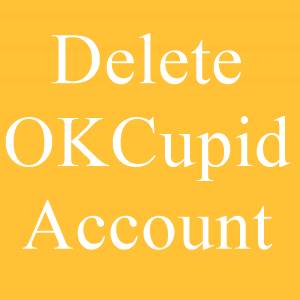 How to delete Okcupid Account
Open the OkCupid website and login to your Account with your Login details (ID and password). Follow the process mentioned below -
Click on your profile picture in the right top corner of the page.
Go to setting a drop-down menu will open.
Click on My account and scroll down.
Click on Go Here at the bottom of the page.
Click on Delete Option at the bottom of the page.
Enter your password to confirm deleting of the account in the confirm box.
Again click on Delete Option.
Hooray!!!! Your need for OkCupid ID delete has been done.
How to delete Okcupid Account on App(Android/iPhone)
If you are using OkCupid on your Android or iPhone, then here is the guide on how to do it -
Open the app from the phone drawer.
Tap on your Profile Page.
Then on Account Setting.
Then on Disable account.
Follow the on-screen instruction.
Disable Paid Subscription with PayPal or Credit Card Added:
In this particular case wherein you have your Credit Card or PayPal ID added, you can directly deactivate OKC account because it will automatically pause all the billings for you as soon as you hit the Deactivate button.
Deactivate OkCupid Subscription via iTunes or Google Play:
If you have subscribed to this platform via iTunes or Google Play, then let me tell you that you will have to cancel the subscription at the respective sources, i.e., at App Store for iPhone and at Google Play for Android devices for closing OkCupid account.
Also Read:
So that was a quick guide on how to delete Okcupid account ID easily. Do let us know if you have any issues.